Secure Downloads
Please enter the following information.
When you provide your contact information, an email will be generated with the access information for downloading our Resource Catalogs.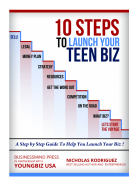 Sign up to Receive Your

Free
EBook Today!
"Learn the 10 Steps to LAUNCH your TEEN Biz"! 
Perfect for Teens, Parents and Inside the Classroom!