YoungBIZ USA Online Venture Launch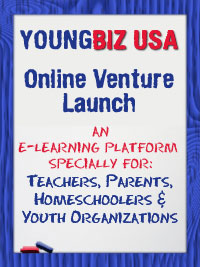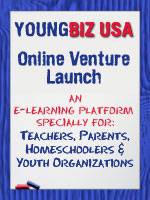 An online program ideal for the Classroom or Home Schoolers.
Coming Soon!
The YoungBIZ USA Online Venture Launch is a hands-on, activity-based program that guides students in grades 6-12 through the decision-making and planning process of starting a business. The program can be taught in 30 hours, or expanded to as many as 50 hours by allowing students to do additional research, cyber tour of businesses, and with challenge activities.
Each of the 10 lessons covers an important aspect of business ownership. Students begin by using their creative abilities to brainstorm possible ideas for a business venture. They are encouraged to focus on their strengths and abilities to come up with possible endeavors that will be both successful and enjoyable.